New York banning smokeless tobacco at ballparks, other venues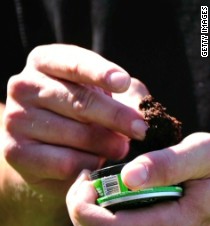 (CNN)New York City Mayor Bill de Blasio is knocking smokeless tobacco products out of the park, giving both fans and players less to chew on.
The crackdown will be in sports venues and recreational areas that issue tickets across the city, including Citi Field (home of the Mets) and Yankee Stadium.
The measure, which will extend a prohibition on smoking to include the use of all tobacco products, was signed into law by de Blasio on Wednesday. The New York Yankees welcomed the move.
The ban also extends to e-cigarettes.
"It's very important for the health of our players, and for the city as a whole," de Blasio told ESPN in March. "Young people look up to
baseball
players, and they look up to all athletes, and we want to protect everyone's health."
New York is the latest city to join a growing list of cities that have recently banned dipping and chewing at its ballparks, following San Francisco, Los Angeles and Boston. The bans apply to fans and players alike.
"With the mayor's signature, New York sends the right message to millions of young fans that chewing tobacco is dangerous and should not be an accepted part of sports culture," said Matthew L. Myers, president of the Campaign for Tobacco-Free Kids.
Smokeless tobacco is far from harmless. It contains nicotine and cancer-causing chemicals and may increase the risk of death from heart disease and stroke, according to the Centers for Disease Control and Prevention.
"We can do more to protect America's youth from a lifetime of addiction," said CDC Director Tom Frieden in reaction to those findings. "The fact is, smokeless tobacco products, such as chewing tobacco, snuff or dip, can cause cancer of the mouth, esophagus and pancreas. And the nicotine in these products is harmful to the developing brain. Because we know tobacco-free policies in schools and other public recreational areas work, we must take action now so that our children are safe from these toxins."
Use of chewing tobacco has been banned in minor league baseball since 1993. But it is still allowed under the union contract that covers Major League Baseball.
"As we have repeatedly and publicly acknowledged, Major League Baseball has long supported a ban of smokeless tobacco at the Major League level, and we support the efforts of cities to ban the use of all tobacco products, including smokeless tobacco, in sports stadiums and arenas," an MLB spokesman told CNN.
MLB says the league has had a longstanding policy that smoking in uniform or in view of fans is prohibited
The Mets issued a statement in support of the ban, saying, "Preventing children from being exposed to smokeless tobacco is an important initiative and we are glad to play our part in achieving this important goal."
Read more: http://www.cnn.com/2016/04/06/health/new-york-smokeless-tobacco-ban/index.html