Villanova's triumph was truly brilliant. College basketball needed this | Les Carpenter
Mondays national title game was certainly the best in 30 years and maybe the best ever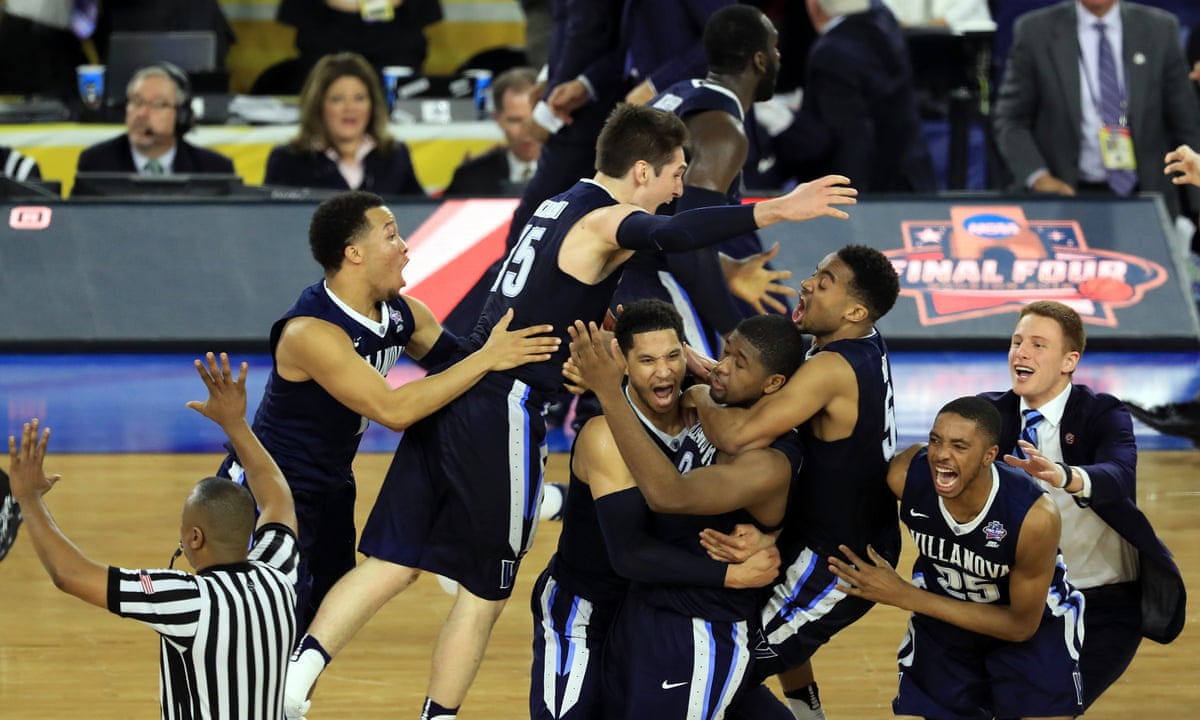 There have been NCAA championships won on last-second shots, on miracle plays and heartbreaking misses, but the finish of Monday nights national title game is the greatest of the last 30 years and maybe ever. It came in a mix of joy and sorrow and brilliance under pressure, with one of the most remarkable things you will ever see on a basketball court in the biggest moment. And it was exactly what college basketball needed.
Despite the annual frenzy of the NCAA Tournaments first week, college basketball has been a game struggling to find itself, clutching to some vague concept of purity in a world of big money. Its system is both exploitive and hypocritical; with millions tumbling to everyone but the players while stripping the eligibility of any poor 19-year-old who take a free cheeseburger from a fan. The best teams are usually filled with stars who see college as a necessary one-year stop on the way to the pros. Schools seem unable or unwilling to balance sports and academics. One of the teams in Monday nights final, North Carolina, is mired in allegations of academic fraud for athletes. A top college recruit, Thon Maker, is petitioning to skip school altogether and go straight to the NBA.
The skills in college are lousy, the best players seem to treat the games as pro tryouts, and the coaches are more duplicitous than ever hard to accomplish in a profession likened to hucking used cars. The game is in many ways broken, corrupt to the core and played in sprawling super-conferences built for football television dollars that have destroyed those great rivalries that once made college basketball so wonderful to watch. If ever a sport needed a night like Monday, it was this one: with declining ratings, blowouts in Saturdays semi-finals and a goulash of players names that nobody knows.
Then came with two of college basketballs best teams, North Carolina and Villanova, fighting for the NCAAs blood trophy as if was the only thing that mattered in their lives. They tussled. They fought. They bickered. Villanova stormed back from a second-half defecit to take a 10-point lead that seemed insurmountable until North Carolina seized it back. Marcus Paige hit an amazing lunging, sprawling three-point shot to tie the game with 4.7 seconds left, one was destined to be among the best in college basketball history until Villanovas Kris Jenkins let go of a beautiful, arcing jumper as the red light flashed and the buzzer sounded.
And in those minutes before and after Jenkinss shot came everything that once made college basketball fun. There was calm. There was bedlam. There was elation. There was despair. There was brilliance on the court and there was brilliance in the interviews after. There was a player who had forever changed his life, standing before the world with not an arrogant sneer but the peaceful look of a man who knew he had made greatness even before hit happened. There was the coach in the pinstripe suit who resisted every human urge to scream like a loon and looked instead with compassion for his distraught counterpart.
But most of all there came in the end of the greatest college basketball championship a virtue essential in sports and yet lost in the frenzy of a world about me, me, me. The player chosen to be a hero gave his chance to someone else for the greater good of the entire team. When do we see this? Villanova coach Jay Wright had put the ball in the hands of senior Ryan Arcidiacono and told him to drive the court for a chance to win a tie game at the buzzer. In almost every instance in every basketball game in this situation the player in Arcidiaconos situation takes the shot. No one would have blamed him if he had. The worst that could have happened was that he missed, sending the game into overtime. Nobody would remember that he tried. It was a no-risk attempt at everlasting fame.
Maybe if he had been unguarded Arcidiacono would have taken the shot. But two North Carolina players converged on him as time ran down. In the din of the huge football stadium where the NCAA plays these games so they can make the most money to pay everyone but the players on the court, he could hear Jenkins shouting: Arch! Arch! Arch. And so he did what almost no one does in such a moment. He passed the ball to the player who was open, whose body was in perfect position, who could step into a jump shot in the best way to make a basket. He threw everlasting fame to someone else.
Kris Jenkins took the shot. And now Kris Jenkins will be the eternal image of the greatest finish. And now Kris Jenkins will the Jim Valvano or Rollie Massimino of his time the face of elation as the great victory is cinched, played on endless repeat for Final Fours to come.
But any replay of Kris Jenkins shot will also show the pass that preceded it. If his long, soaring laser at the basket is destined to be preserved forever so will the act of unselfishness that made it happen. Ryan Arcidiacono had history in his hands and he gave it up to someone who had a better chance of making it happen. In the foul stink of what college basketball has become in our modern era a, basketball player passed eternal glory to a teammate to make sure everyone won.
Isnt that was college sports is supposed to be about?
Read more: http://www.theguardian.com/sport/2016/apr/05/villanova-ncaa-title-winning-shot-unc-amazing-game-college-basketball