While Miami waits for MLS to arrive, city's newest team make its move
Crowd of 10,156 shows up for first ever home match of NASL team managed by Alessandro Nesta and co-owned by Paolo Maldini, who are looking for a slice of the burgeoning soccer market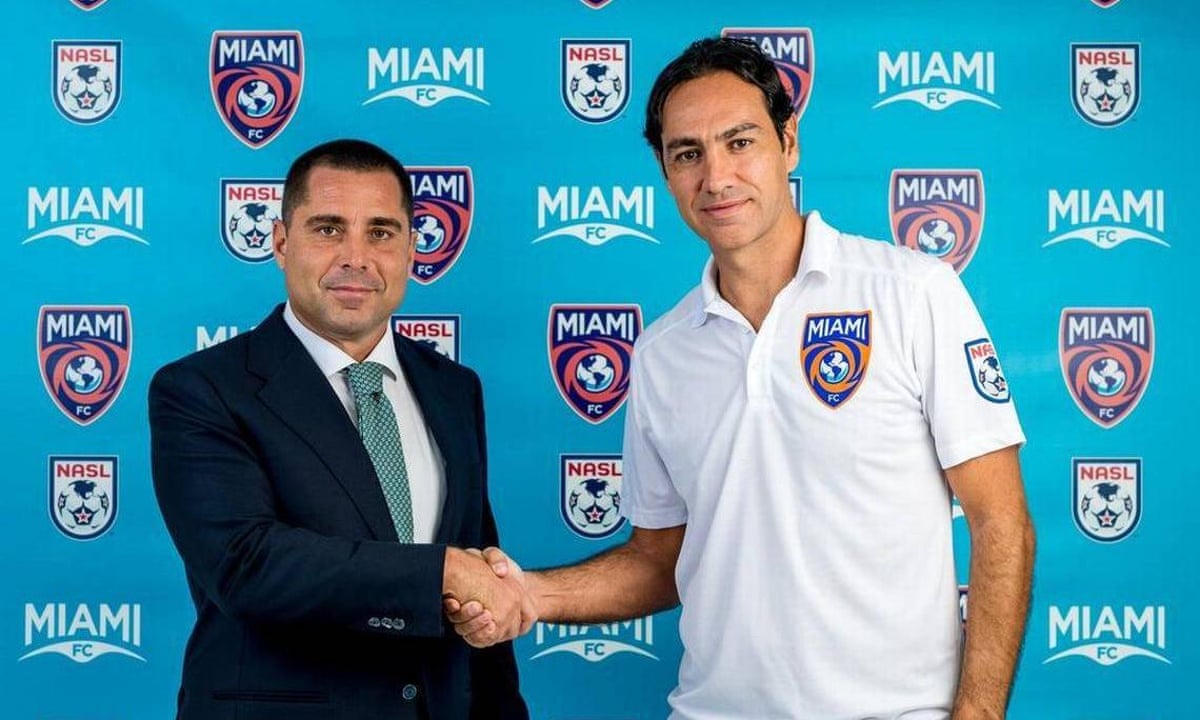 Soccer finally broke out in Miami last night.
David Beckham was nowhere to be seen, and none of his well-heeled player friends were present either. Instead it was AC Milan and Italian legend Alessandro Nesta taking center stage at Ocean Bank Field in the sprawling, impressive campus of Floridas International University.
While the protracted wait for the presence of an MLS team here in South Florida stretches on and on, the NASL, ever the chancers when it comes to identifying potential hotbed soccer markets, have made their move. This was their first ever home match with the Tampa Bay Rowdies coming to join the party.
Miami FC is Floridian by name yet fuelled by Italian machismo. Nesta prowled the dugout, but co-owner Paolo Maldini was not in attendanceafter the death of his father, Cesare.
A minutes silence was well observed for the former Italy coach, but that was as somber as it got.
It certainly wasnt an evening for the purists, but there was enough fun and frolics to keep the patrons happy.
A half-baked Forza Miami flag was present behind one the goals. Romas Curva Sud it was not but no matter.
The money of TV rights magnate Riccardo Silva, another Italian export who met Maldini and Nesta while working for AC Milans TV channel over 15 years ago, powers the franchise. Yet in such a culturally rich city as Miami, the target audience spans the Americas and beyond. Thats millions of enthusiasts right there, right now.
The Colombian pop star Maluma was wheeled out before the match and at half-time, much to the delight of large groups of 14-year-old girls.
He asked a healthy crowd of 10,156 where they were from. Mexico, Columbia, Venezuela, Ecuador and Argentina all got healthy roars. And lots of squeals.
That, however, is what Silva wants. There were excited children everywhere. They are the future for a franchise just starting out on the arduous journey of attempting to become established in a sporting market which remains heavily saturated.
The 50 year-old baseball or NFL fan wont be magically transported to a new sporting world of awe the moment they take in a Miami FC match. Theres enough on their plate with the Marlins and the Dolphins.
Young fans who are desperate to see some live action rather than pretending to be Lionel Messi on their PlayStations, however, will certainly come again.
The NASL is a kind of subculture, said Lowell Knaus, proudly wearing an Arsenal shirt along with his son, who travelled the 25 miles from Fort Lauderdale to check out the latest addition to the Florida footballing family.
The fans love the game and its great for the area that a team in Miami are starting up.
So what of the match itself? Certainly the plastic playing surface did no-one any favors. Its not conducive to flowing, attractive soccer, although when youre sharing with a college football team, thats one hardship which must be stomached.
It is a difficult surface, said former Stoke and Tottenham midfielder Wilson Palacios, Miamis star turn. Maybe they will change it in a few months.
Nestas side, for the most part, appeared the more capable last night. What looked like the winning strike came in the first half from striker Dario Cvitanich, and once Honduran Palacios entered the fray soon after the opener, the home team were in control.
For the second successive weekend however, a late equalizer dented Nestas evening, substitute Georgi Hristovs late penalty ensured the small but loud band of Rowdies fans went home happy.
I just want to win, the legendary former AC Milan and Lazio defender told the Guardian when asked how life in the dugout compares to a career which saw him rack up over 490 appearances for club and country.
The atmosphere and crowd were very pleasing, though. I hope we showed enough to make them come back. I am still disappointed with the result. We should have won.
One would expect Beckhams MLS inception, whenever it might be, to be glitzy in the extreme.
Swap Maluma for Elton John or Jay-Z . Add in Cristiano Ronaldo or Wayne Rooney for Palacios. A new sparkling stadium, dripping with corporate effects will look better than a university arena still sporting college football markings.
Yet Nesta and co are playing and building a future right now. Its raw in the extreme, slapdash at times. But it was a fun night out for the uninitiated and for those who already have the game in their hearts.
Their dream has started. How Beckham longs to be in that position right now.
Read more: http://www.theguardian.com/football/2016/apr/10/miami-fc-nasl-alessandro-nesta